逾越節晚宴 Passover Seder
Published by

admin

on Tue, 01/21/2020 - 11:28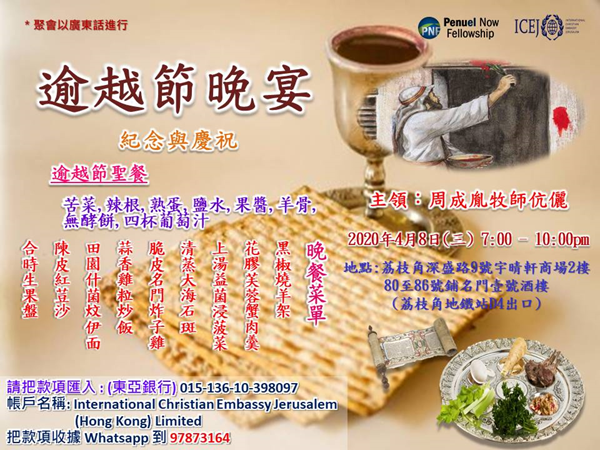 Date:
08/04/2020(Wednesday)

PM 07:00

to

PM 10:00
逾越節晚餐的敍述:
逾越節晚餐是關乎主耶穌基督在地上33年的高潮,當然也是祂在生命中最後幾個小時裡所經歷的最艱鉅時刻。祂深深受到情緒爭扎的困擾及激動。耶穌走上馬可樓,與圍繞祂的十二門徒坐在一起。可以非常清楚地說,祂很快就要經歷被暴行對待,當他擘開餅時,祂的痛苦和悲傷一直加速。而當祂舉起第三杯並告訴他們「這杯是我所立新約的血」時,祂的血管開始收縮。
關於出埃及的故事以及門框上被殺羔羊的血的奧秘,猶太人每年在逾越節期間記念他們的祖先從奴役逃出,得著自由。今年,在最後的晚餐中,耶穌揭開了逾越節的奧秘,並實踐了逾越節所有的屬靈意義。
事實上,對於基督徒來說,逾越節記念著耶穌受難的開始。接下來是在客西馬尼園裡的命定時刻,在那裡耶穌允許祂的人性情感表露無遺。當祂感受著與天父分離之時,這就是祂痛苦加劇沉重的時刻。
邀請您4月8日星期三晚前來參與及慶祝「2020年逾越節慶典」,自然地敞開自己,讓我們的主,我們的拯救者,主耶穌基督親自在最後走上十字架的路上與您一同體會整個過程。
Narrative for Passover Seder:
It was the climax of His 33 years on earth and certainly the ultimatum that He had to face in the final hours of His life. Beleaguered and stirred by emotional upheaval, Jesus stepped into the Upper Room and sat down with the twelve around Him. Knowing very well the atrocities that will soon befall Him, His pain and sorrow accelerated when He broke bread . His blood vessels began to constrict when He raised up the third cup and told them that "this cup is my blood of the New Covenant"..
Embedded in the story of Exodus from Egypt and the mystery of the blood of the slain lamb on the door post, Jews commemorate annually during the Passover Festival their ancestors escape from slavery to freedom. This year, in the Last Supper, Jesus unveiled the mystery, and fulfilled the whole meaning of Passover
The Passover Seder , for Christians in a real sense, commemorate the beginning of the suffering of Jesus. Next came destiny time in the Garden, where Jesus allowed His human emotion to run loose. This is where the pain started, when He felt the separation from the Father.
Please join us on 8th April to commemorate the 2020 "Feast of Passover" . Open yourself freely to allow our Lord and Savior Jesus Himself to walk you through this whole proceeding before His final run up to the cross.